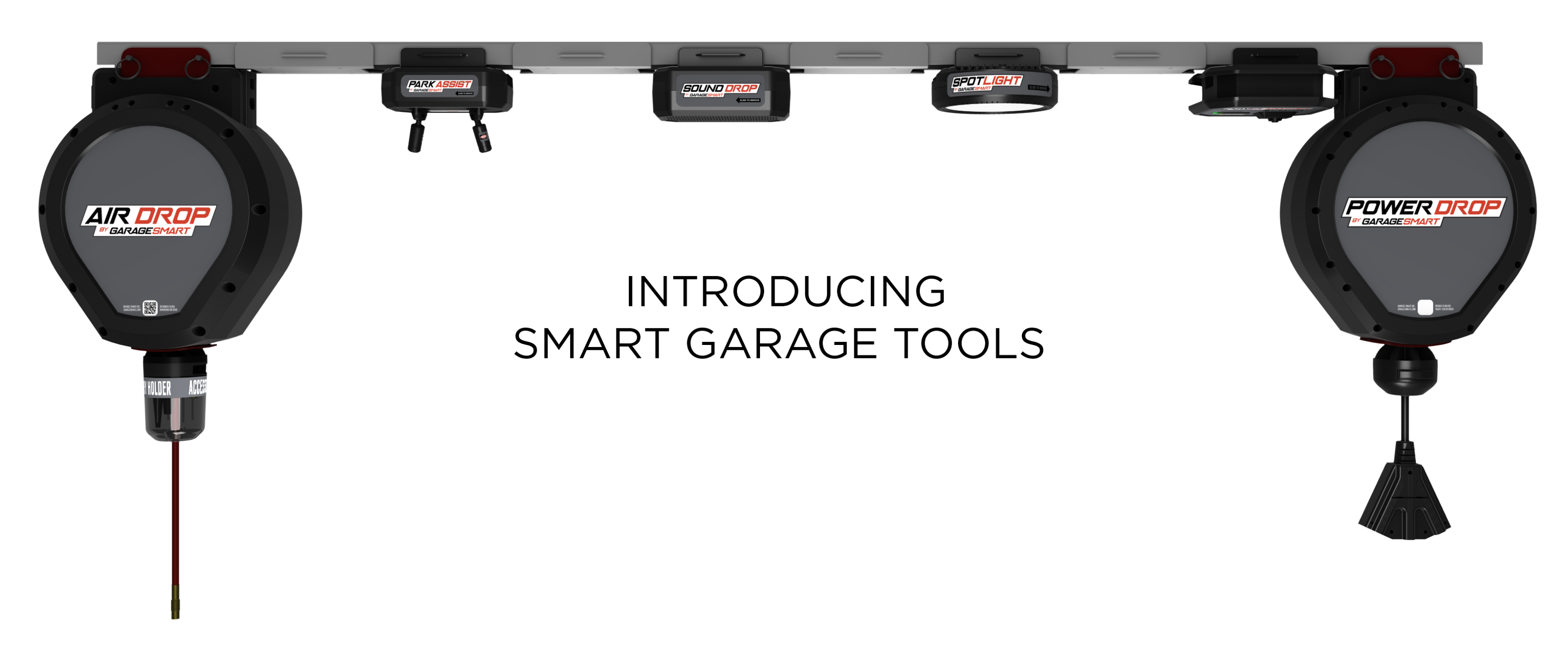 GET THE MOST OUT OF YOUR GARAGE WITH GARAGE SMART'S NEWEST LINE OF PRODUCTS DESIGNED TO TRANSFORM YOUR SPACE INTO THE SMARTEST GARAGE ON THE BLOCK
Each of the smart garage tools attach easily to Garage Smart's versatile track system and can be simply installed on existing Smart Track with any Garage Smart lifter.
---
Keep bike tires and balls from falling flat with Air Drop, a spring-loaded retractable air hose with a built-in wirelessly controlled inflator. Set air pressures in the smartphone app and Air Drop automatically turns off when set pressure is reached. Save specific pressures to make it easy to fill the same items regularly. A small container attached to the drop-down air hose keeps accessories like needles and valves easily accessible.
Use Park Assist to accurately park up to two cars in one garage. Dual lasers with a full range of motion make it simple to adjust
points of reference. Plus, easily program triggers in the smartphone app like turning on when the garage door opens.
The Spotlight is designed to add supplemental lighting to your garage. Program multiple Spotlights to work together in groups or independently via the Garage Smart app and control them on demand via wall switch or smartphone. Plus, put your Spotlights on an automated schedule or program them to turn on when they detect motion.
The Sound Drop is a Bluetooth speaker with a built-in microphone. Receive phone calls, listen to music, and more - all from your smart garage.
Power your devices with Power Drop, a spring-loaded retractable extension cord designed to provide 110v AC power for up to three devices. Program custom schedules, get power consumption feedback, and turn Power Drop on and off remotely from the smartphone app.
Control your Garage Smart products with the Smart Switch Pro (compatible with Power Drop and Spotlight). It's easy to use three button design makes it simple to turn your products on/off and control your products by group. Configure multiple devices to up to seven groups and control them all with the Smart Switch Pro.